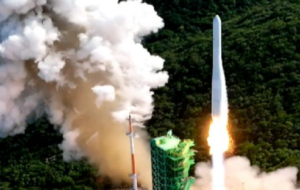 South Korea's aspirations for space have increased with the successful placement of its first satellites into orbit.
The Nuri, or Korean Satellite Launch Vehicle II, was launched for the second time from Goheung, which is located about 500 kilometres (310 miles) south of Seoul.
In October 2021, an earlier attempt to launch a fake satellite into orbit was unsuccessful.
By 2030, South Korea's space programme hopes to send a probe to the moon.