WannaCRY Ransomware , How to keep your system safe
We will discuss about wannacry ransomware cyber attack and how to decrypt data which encrypted by wannacry.
The WannaCry ransomware began to spread across the all over the Internet on Friday May 12th, 2017. I took my phone to see the text from my friend, "What should we do to beware the ransomware?" My stomach tightened. It was time for friendly IT support.
Their home system was set to auto-install patches. All of their files were backed up remotely to a secure system and their firewall & malicious software protections were current.
I determined to share the steps that I use to protect my friend's computer so that end users can better protect themselves when issues like the WannaCry ransomware crop up from time to time. If you are using a Windows operating system here is a helpful steps to follow.
Open Windows Update by clicking the Start button in the lower left corner. In the search box, type Update, and then, in the list of results, click Windows Update.
Click on Check for updates, and then wait while Windows looks for the latest updates for your computer.

Then turn on the automatic windows update
   3.  Click Install updates.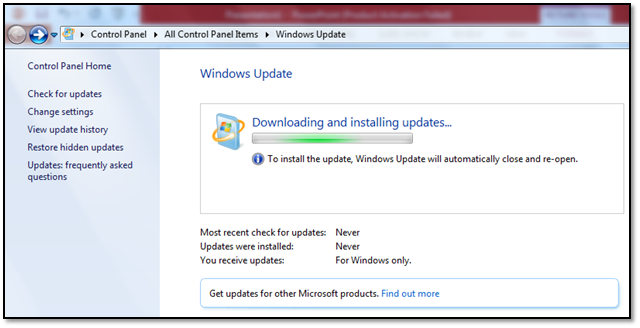 If you're not of a mind to do thing automatically you can set it to manually install patches.
• Use this link to download update Manual :
MS17-010 Update for Windows 8.1
The first option is for 64bit system and another option for 32bit system
MS17-010 Update for Windows 10
The first option is a 32bit system and a second option for a 64bit system
Update link for MS17-010 for Windows 7 and Server 2008
Choose the first 64bit system choice or the second 32bit option.
Links Update for MS17-010 for Windows XP and Server2003 and 8
In the case of a user that has MacOS who might not be technically sound knowledge, have them click on the AppStore and select "update" next to the patches that need to be installed.
 No matter what your platform of choice.
 
Make sure that you have malicious software protections   installed and that they are kept up to date.
Your system firewall should deny inbound connections and anti-virus should be kept current.
While these programs are not a 100% guarantee, by any stretch of the imagination, they will help with the lot of the cruft that could negatively affect your systems.
How to Decrypt WannaCRY.
A tool under the name WanaKiwi is "able" to decrypt the data in the hands of the ransom software,But only if the user has not restarted or turned off the computer.
This condition must come from how the rudimentary software algorithm works. The researcher focused on the initial numbers stored in the random memory of the computer on which the software is based to perform the encryption process.
More generally and simply, the tool searches for these numbers and begins the process of decrypting encrypted data in advance, hence the importance of the above requirement, in addition to the reference of some other reports to another condition is not to take off new software after infection such as games and office applications which can damage the order Store those numbers on your computer's memory by using that space for another program.
Note: The new tool works on both Windows 2008, 7, XP and Vista, and has been proven effective by some security companies. Another tool named WanaKey is based on the same principle
Link Download direct: Wanakiwi_0.2.zip or Wanakiwi.zip
For more information and reference.
answer.microsoft.com
Often I see people finding fault to the end users. Rather than do that, I preferred to share what should be done to better protect their systems. Hopefully, if we preserve to share more information like this it will help to better protect the home user.